Our Featured Artist for the Month of February
Each month, Yola's Cafe features a different local artist. Their works are displayed and available for purchase.
Becky Lotto Art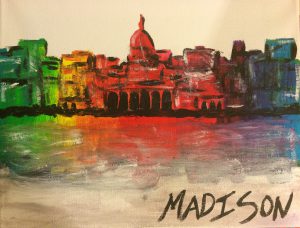 Description of the works on display:
On display at Yola's for the month of February 2015 is "Cityscapes" by Becky Lotto Art. You will fall in love with the canvases that Becky has painted that feature the cityscapes of Madison, Chicago & New York. Costs are $35 and up.
Artist Statement:
Bio:
Becky Lotto is a Madison resident who works at Communication Innovations, a pediatric therapy clinic in Fitchburg. She loves her full-time job that allows her to be creative in providing therapy for children with special needs and enjoys supplementing this creativity with her painting hobby. She has always enjoyed art and became interested in drawing and painting at a very young age. She loves the sense of freedom and escape that art brings and enjoys spending her free nights and weekends painting in her home studio. Becky particularly enjoys working with acrylic and watercolor paints and you can find bursts of color and abstract watery and flowing lines in most of her works. She creates original art, does custom canvas pieces and wall murals. To learn more about her work or request for custom pieces please contact Becky at rebecca.lotto@gmail.com.