Our Featured Artist of the Month
Each month, Yola's Cafe features a different local artist. Their works are displayed and available for purchase.
Art for Orphans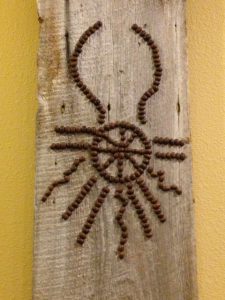 Artist Statement:
A young girl walked into a coffee shop and saw a sign for an orphanage named GiveHope2Kids in rural Honduras. After several conversations with her mom and friends, she decided she wanted to help these kids from a far away land. Kids helping kids was born. Since developing the "club" over a dozen children have contributed time, effort and most importantly their love to various projects to raise money for the orphans. This exhibit is the latest installment of their efforts.
The kids decided that since their art was going into a coffee shop they should integrate coffee into the design. They also wanted to design some of their own symbols using their imagination and drawing skills. After developing the symbols, each child drew, glued and placed the coffee beans on aged barn boards. The boards were reclaimed from a Cornish mining town and are likely from the early 1900's (the seller was unsure how old they were as they had been removed from a building and then used as a rustic fence).
The symbols represent emotions ranging from bravery to teamwork to spirit. Each one is labeled with the child's intent. Not bad for a group of 7-11yr olds!
Each piece is available for donation. Suggested donation is between $20.00 to $50.00 per piece. 100% of the proceeds from the sales of the art will go towards purchasing sustainable items to support the orphans at GiveHope2Kids.
For more information about GiveHope2Kids click here.