Donation Waffle Creation
$1 of each Donation Waffle Creation sold goes to local non-profit organizations. Specialty waffle creation changes monthly.
December Donation Creation: Cinnamon Roll Waffle w/ Cream Cheese Glaze
Benefiting WAGS!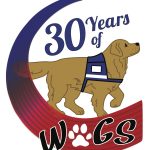 Mission Statement: The Wisconsin Academy for Graduate Service Dogs (WAGS) began in 1987. WAGS mission is to promote functional independence and improved quality of life for people with physical disabilities through partnerships with highly-skilled service dogs.
WAGS has been providing service dogs for 30 years and all of their dogs are trained by volunteers in our community. WAGS has facilitated the partnership of more than 150 service dogs for people with physical disabilities.