Donation Waffle Creation
$1 of each Donation Waffle Creation sold goes to local non-profit organizations. Specialty waffle creation changes monthly.
May Donation Creation: Maple Bacon Waffle
Benefiting Sauk Prairie Against Hunger!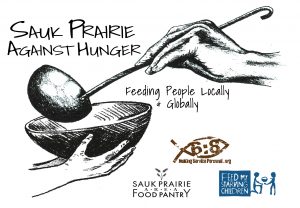 Sauk Prairie Against Hunger is a part of 6:8 Making Service Personal, a Sauk Prairie local 501c3, with the mission of Transforming Communities by making service personal through intentional community.
Sauk Prairie Against Hunger feeds people locally and globally. Our global effort is accomplished each year when we coordinate a Feed My Starving Children (FMSC) MobilePack event at Grand Avenue Elementary School in Prairie du Sac. This year's is from October 26-28, and it will be our 6th annual event! We will pack over 272,000 meals with the help of over 1,200 volunteers, and raise the 22 cents needed for each meal to pay for the ingredients—amounting to almost $60,000! Those FMSC meals will then be distributed globally to one or more of 70+ countries around the world in desperate need of food.
Our local effort at this event is the CanCreation contest which represents canned goods and non-perishables donated—and our goal is to collect 3 tons of food. Another part of the local aspect of this event is the community coming together rubbing elbows for a common cause, working side by side regardless of faith or other affiliation with a goal to help people both locally and globally. Not only are we packing FMSC food and filling our local pantry resulting in feeding hungry bodies, but we are feeding hungry souls right here in our town through their attendance and participate in this inspirational and motivational event. Each volunteer that comes into the school doors is committing to only work 2 hours of action-packed, fun volunteer time. With volunteers being as young as 5 years old and as old as…well, we have no upper age limit…there are endless possibilities of who can be impacted by helping!
Through our 5 past events, we have packed over 1.6 million meals, and we have fed 4,449 children for a year!
Learn more at our website here!